Black and White Tuxedo Cat Hand Puppet Plush Stuffed Animal by Folkmanis Puppets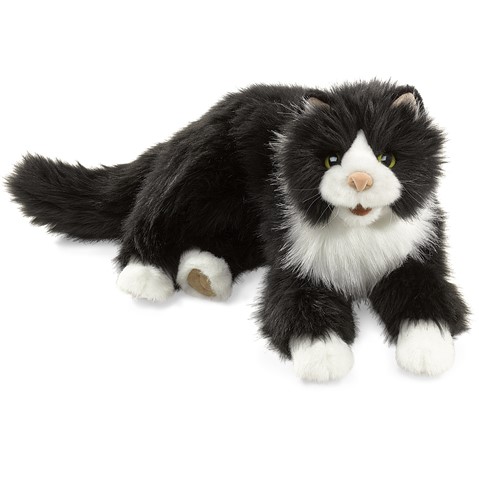 Tuxedo Cat Hand Puppet
Brand new with tags by Folkmanis
Product video:  https://www.youtube.com/watch?v=VORL-vHINwc
Measures 21 inches long   (42 centimeters)
Always dressed to the nines, this natty catty is ready to step out on the town. This kitty puppet has a movable mouth and front paws that bring him to life like a real cat - full of curiosity or seeking a lap for a nap.
Child minimum age recommendation:  3 years
Product review:  My grandson turned 2 years old. He has a dog, but is preoccupied with cats. I have 2 cats who want nothing to do with him. When I saw this puppet, I knew I found THE present for his birthday. It was such a hit. You can make the mouth move as well as the paws, so the puppet kitty I held in my arms like a real kitty was talking to the kids at the party and kissing them. Thanks!
Feedback received:  THIS IS NOW MY GO-TO-STORE FOR FOLKMANIS PUPPETS:))!!ONE OF E-BAYS BEST!!A+++++!
---
We Also Recommend