Black Cat Animal Hand Puppet Plush Stuffed Toy Folkmanis Puppets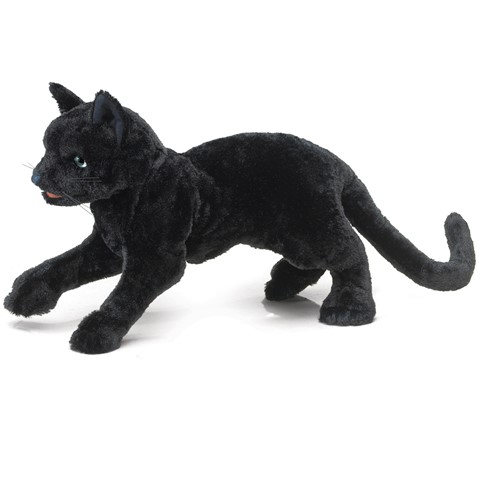 Big 20 inch Black Cat Hand Puppet
Brand new with tags by Folkmanis Puppets
Feedback received:  
Easy transaction, great Folkmanis quality, just as pictured-would buy again.
Great for Halloween & the Grandkids love it!! - THANKS!!
Moveable mouth and forelegs
Child minimum age recommendation:  3 years
Feline fans don't care much about superstition when it comes to the new Black Cat puppet. Stretched out and ready for playtime, this cool kitten has sleek, short, ebony plush with movable mouth and front legs. Intense eyes convey that this cat means business to any who dare cross its path.
Product review:  This Folkmanis black cat will make a great addition to any story time puppet collection. Although story time leaders with larger hands might have a bit of trouble manipulating the mouth, I had no difficulty moving the mouth and the forelegs of this little cutie. As with most all Folkmanis puppets, this one is very well constructed and very expressive. I liked his large paws and was quite pleased with the amount of expression I could draw from his face. His coat is smooth, with a nice texture and he is a nice size for using with groups. Another excellent choice from a fine puppet company.
---
We Also Recommend