Hermit Crab Hand Puppet Plush Stuffed Animal Toy by Folkmanis Puppets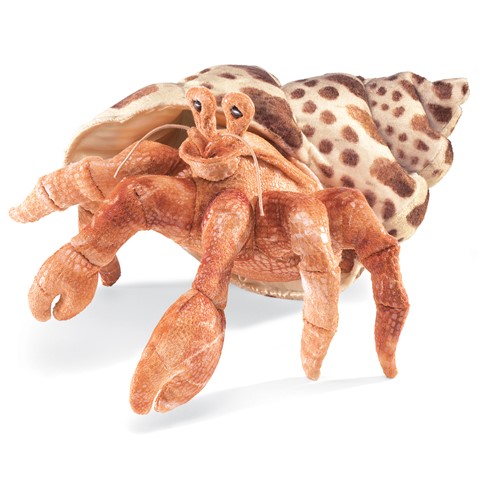 Hermit Crab Hand Puppet
Brand new with tags
Product video:  https://www.youtube.com/watch?v=dvYRyq2C2mM
Measures 13 inches long  (26 centimeters)
Child minimum age recommendation:  3 years
Feeling crabby? This brilliantly colored Crab puppet can cheer you up in a pinch! With his bright orange body and soft patterned shell, he'll sidle blithely into your heart. Slip your hand inside his underside to wiggle legs and pincers.
Product reviews:
This puppet is lovely. It is well made and easy to operate. I'm a librarian and use this puppet when reading Eric Carle's "A House for Hermit Crab". The kids aged 3-8 love it. It also makes for a lovely stuff animal should you have a hermit crab loving friend of family member.
I teach toddlers, and this puppet is the best ever. Your fingers fit into the legs, and since he is created so he can slip back and forth in his shell, you can really get into the story-telling with this guy. We used the puppet with 'A House For Hermit Crab', and the children loved it! He is so durable, and the detail is amazing. I love this puppet. :)
I ordered this puppet for my autistic 9yo son. He has a compulsion to rip and pick things apart. When I opened it, I was apprehensive that it would last, but we've had it for weeks of hard play now and it's not damaged at all! I can't say how very pleased I am to find such well made puppets. Folkmanis has gained a very loyal customer.
This hermit crab puppet is AMAZING. It is great quality; very well made! The colors are great, the hand space is plenty, and the shell moves. Love. Love. Love.
---
We Also Recommend