Ragdoll Cat Hand Puppet 28 Inch Toy Plush Stuffed Animal by Folkmanis Puppets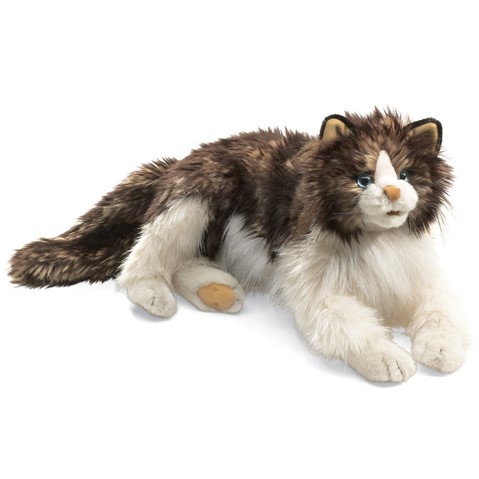 Ragdoll Cat Hand Puppet
Product video:  https://www.youtube.com/watch?v=-ddkE89Tp84
Brand new with tags by Folkmanis Puppets
Measures 28 inches long
Moveable mouth
Snuggle up with this furry, floppy realistic feline. This Ragdoll Cat is true to its breed. With relaxed paws and a long fluffy tail, it looks almost boneless! Put side by side with a real live cat and it would be hard to tell the difference. Made of long, chocolate tipped plush with white markings.
Product reviews:
This is a wonderful cat, the hair is a multi mix of colors and has beautiful eyes and curved paws. Looks lifelike and is good for a joke if you lay it down. Mouth moves. This puppet is huge! My dogs are scared of it!
My grandson wasn't much for stuffed animals, but when he saw this cat, he fell in love and carried it everywhere. We didn't use it as a puppet very much, because every time we tried, he wanted to hold it himself.
This cat is life size just like a real cat. I was going to give it to my daughter but now it is mine i put it on my bed.
---
We Also Recommend