Rattlesnake Finger Puppet Rattle Snake Plush Animal Toy by Folkmanis Puppets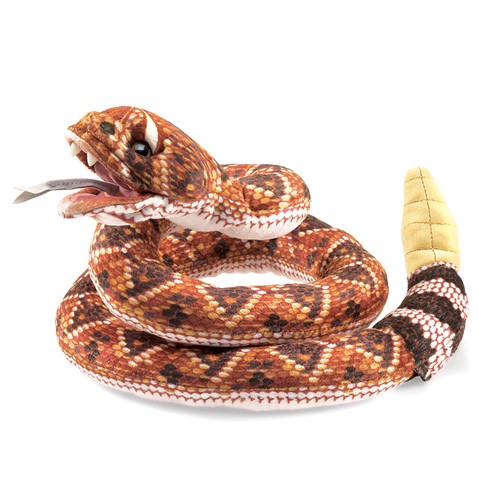 Rattlesnake Finger Puppet
Product video:  https://www.youtube.com/watch?v=9F0uAQ3vefI
Child minimum age recommendation:  3 years
Movable mouth and tail, 36 inches long when stretched out.  (72 centimeters)
Designed with the signature diamond back in browns of the desert, this rattler stretches out to 36 inches, has a movable mouth and a rattle in its tail.
Brand new with tags by Folkmanis Puppets
Product review:  This particular puppet is about 35" long, 1-1/2" thick, made of a plush fabric with a realistic snakeskin design. There is a slot just under its neck, big enough to insert a finger that may move the snake's jaw up and down and of course a rattle in its tail provides more interactive fun. Each Folkmanis puppet comes with a tag with plenty of species information.
---
We Also Recommend